Proud Kajsa Varg
In 1974, I got help finding a Labrador puppy by Catta Knöppel, who had a lot of contact with Mrs Sigyn Littorin at Nattens Kennel, the Grand Old Lady of Labradors in Sweden.
A yellow dog, INTUCH SUCH NUCH Nattens War Cry, was mated to a yellow imported bitch, Ballyduff Zephyr, owned by Eva och Sven-Eric Delér at Proud Kennels in Vallentuna. I made a call and was promised a female puppie.
After waiting and longing, with many preparations and lots of reading, the litter was born and I was owner of my first Labrador.
Sven-Eric at once made it clear to me, that the Labrador was a Retriever, a working dog.
As soon as Proud Kajsa Varg was old enough, I entered a game course led by Sven-Eric och Lars Lillnor (Birdland). After that my aim always have been, to merit my dogs both in the Show ring and in the Field, though I don't go hunting myself.



The Labrador retriever is the ultimate allround dog.
The breed is useful as guide- service- rescue- and drug dogs, but the main purpose was that of a retrieving gundog, where it is used mainly at bird and small game hunts.
A strong will to please, strength and physical fitness, combined with a strong adaptability makes it well suited for all purposes.
It is intelligent, keen and biddable with a strong will to please, which makes it an adaptable, devoted companion.



"Hoss"

Manymills Hokum was born on the 1st of July 1992 and he came to Sweden, as an eight weeks old puppie. His breeder, Susan Scales at Manymills Kennels in Great Britain, was known for, as she put it herself, her "Multi Purpose" Labradors. Unfortunally is she no longer with us.
I bought him because I thought he would suit my own bitches well and indeed he did.
As an elderly gentleman he enjoyed being retired. He always had had a lot of "will to please" and was very healthy his whole life. He became twelve years of age.
We miss him a lot, he was willing to work, a kind and affectionate dog with great personality.
He is the father of eight litters, with seven different bitches. In the last litter two of the girls are Guide Dogs for the Blind.

MANYMILLS HOKUM
S56319/92
MANYMILLS HOBBY
GB CH
ABBEYSTEAD
HERONS COURT
MANYMILLS JAFFA
MANYMILLS LADYBIRD
MANYMILLS DRAKE
GB FTCH
MANYMILLS MILADY



"Bonnie"

Proud Kajsa Varg was born on the 24th of June 1974. She is my foundation bitch and of course she is very special to me.
She was an excellent game tracking dog and competed in the highest class. She never got her merits on Field Trials, but I am to blame, inexperienced I was to dead birds and rabbits.
She always had one of the familys shoes in her mouth, to get attention.
PROUD KAJSA VARG
S42217/74
INT S N UCH
NATTENS WAR CRY
INT S N UCH
CHRUSTON WAPANACHKI
OF TREWINNARD
VESTVOLLENS YMA
BALLYDUFF ZEPHYR
BALLYDUFF POWHATAN GALE
PEBBLESTREET CINDY



"Bessie"

Duckling's Blackbird was born on the 13th of December 1977, in the second of my labrador litters.
With her I tried many different dogsports. She was good looking and was a keen retriever.
An exciting memory is a duckhunt at Ovesholms Estate in Scania with, at the time, the young King of Sweden.
She had a lot of will of her own ("I'll do this myself, missy!") and was not always so easy to guide. She would never give up!
Bessie had five litters and and still find traces of her in the present dogs.
She was quite a friend.
DUCKLING'S BLACKBIRD
S13070/78
MALLARDS BLACK GNAT
S JCH INT NORD UCH
POWHATAN SENTRY
GARPABACKENS NANA
PROUD KAJSA VARG
INT S N UCH
NATTENS WAR CRY
BALLYDUFF ZEPHYR



"Emma"

Duckling's Eaglet was born on the 12th of July 1980. Lotta Håkansson was the best of puppy buyer and merited Eaglet in all ways. Many good and clever dogs from Loving Will's kennel descend from her. She was daughter to Duckling's Blackbird and granddaughter to my very first labrador, Proud Kajsa Varg.
DUCKLING'S EAGLET
S47126/80
S FIN UCH
INGMOS YSTER
S UCH S JCH
PENDIL OF BALLYDUFF
PUHS BLACK BIRD
DUCKLING'S BLACKBIRD
MALLARDS BLACK GNAT
PROUD KAJSA VARG



"Connie"

Loving Will's Cyd Charice was born on the 27th of January 1987. She was the mother of the two bitches I took back from Lotta Håkansson, Loving Will's Duckling "Emma" and Loving Will's Easter Duck "Ester". Unfortunaly Emma had hard whelpings, so she became a pet, but Ester have ment a lot to me.
Lotta had an traffic accident and went to hospital, when Connie had the Emma-litter, I had to bring the mother and puppies to Öland. The puppies were only five weeks old, Connie behaved greatly and accepted it all.
LOVING WILL'S
CYD CHARICE
S18690/87
LP SPECTRON OLIVIN
MANYMILLS ELECTRON
S FIN JCH
SPECIAL-ACTION
DUCKLING'S EAGLET
S FIN UCH
INGMOS YSTER
DUCKLING'S BLACKBIRD



"Ester"

Loving Will's Easter Duck was born on the 14th of April 1992. Ester reminded me very much of Duckling's Blackbird, mother of Duckling's Eaglet and one of my favourites among the older dogs.
Ester had three litters. She was an excellent mother and shared her working ability and cleverness to her puppies. She was a good retriever and a good game tracking dog.
She was one of the best!
LOVING WILL'S
EASTER DUCK
S34622/92
S JCH
TARRYHOLME BRODIE
S N JCH GB FTCH
BLACKTHORN BRIAR
TARRYHOLME FIRECRACKER
LOVING WILL'S
CYD CHARICE
LP SPECTRON OLIVIN
DUCKLING'S EAGLET



"Birdie"

Duckling's X-Bird was born on the 25th of Mars 1997. She was a gem with a lot of go! To me she was the absolute Labrador.
Birdie was the mother of one litter. She was the sixth generation of bitches, since my first Labrador, Proud Kajsa Varg. All generations before were merited on both Shows and Field Trials, but unfortunately I did not merited Birdie.
When I see pictures of her grand mother and grandgrand mother etc. I can see the resemblance. Both in likeness and temperament.
Good you were there Lotta!
DUCKLING'S X-BIRD
S23579/97
MANYMILLS HOKUM
MANYMILLS HOBBY
MANYMILLS LADYBIRD
LOVING WILL'S
EASTER DUCK
S JCH
TARRYHOLME BRODIE
LOVING WILL'S
CYD CHARICE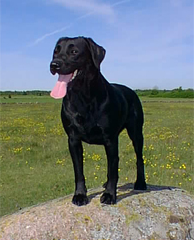 "Zally"

Duckling's Zee-Bird was born on the 22nd of October 2001.
She was the seventh generation of bitches, since my first Labrador, Proud Kajsa Varg. Zally grew up together with Pixie, my first Jack Russell Terrier, one month older. They were the best of friends and had a lot of fun together!

Zally was eager to please and loved to work and would really had been better off with someone who worked with her. I think she sometimes found life here a little boring!
DUCKLING'S ZEE-BIRD
S56688/2001
S UCH
BRANTASTIGS UTZ
TALISKERS HERO
BRANTASTIGS DUENNA
DUCKLING'S X-BIRD
MANYMILLS HOKUM
LOVING WILL'S
EASTER DUCK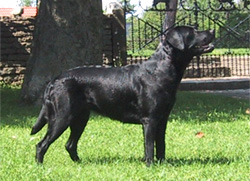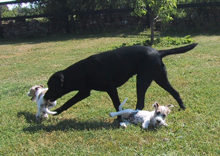 Zally acts as babysitter for the Jack Russell puppies, it looks tough, but the puppies have great fun!




Updated 2010-06-11
© Christina Areskough | info@ducklings.se