The Malung Famous Four

It is doubtful if Erica Wilkens of the Malung Kennels in Victoria had any idea as she awaited the birth of Malung Morag's first litter in 1988 that this litter was destined to become the most influential litter in the development of the Jack Russell Terrier since the breed gained its recognition.
This mating between the rough coated Malung Morag and the smooth coated Dubbsville Bud, who were related only at the fourth generation through Karingal Sandy, had nothing to indicate its future significance in the breed.
This historic mating could never be repeated as Dubbsville Bud was killed by a snake not long after.
The litter was born on the 9th of February 1988 and the mating produced:
Aust Ch Malung Orinoco JR10726, rough, owned by Rita Francis-Little of Carisbrooke.
Aust Ch Malung Laird Of Joyreve JR10727, smooth, first owned by Joy Revie, prefix Joyreve and later by Jocelyn Cansdell, Myrmidon Kennels.
Aust Ch Malung Jim Beam JR10728, broken, owned by Pam och Curly Sullivan, Baylock Kennels.
Aust Ch Malung Niniane Swynford JR10729, rough, owned by Susan Hunt, prefix Swynford.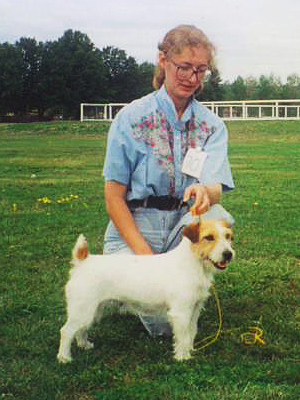 Susan Hunt and her AUCH Malung Niniane Swynford.
Progeny and Grand progeny as well as GG progeny have been shown with great success and even today a huge majority of these four dogs' descendants can be traced in a large majority of our pedigrees.

Aust Ch Malung Jim Beam was the first JRT to achieve the title Champion in Australia and was also the first to go Best In Show at an All Breeds Show.