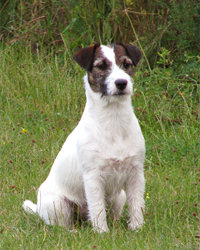 "Dockan"
When Mrs Rita Francis-Little from Australia paid me a visit, she liked Doxy very much. She called her colour "the Carisbrooke colour".

Duckling's JR Just Doxy By Tux is born on the 26th of December 2008. She is white & tan with a rich dark tan colour and her coat is rough. Her height is 30 cm.
Doxy has a correct scissors bite with full dentition. She has healthy patellas and was cleared from hereditary eye disease in February 2014. She is BAER tested OK.

At six months old, Doxy was BOB and BIS 3 Puppy at SKC Show in Boras. "Eyecatching bitch puppy. Nice head and expression. Elegant neck, topline. Excellent croup. Well formed brisket. Excellent angulation. Moves with excellent drive and lovely attitude. Elegant presented. Excellent coat."
As an adult she has CACs in Sweden, Denmark and Germany and she is Swedish and Danish Champion.
Doxy's nickname is "Dockan" meaning doll, but she she is full of confidence, so her nickname is kind of misleading! She lives with a friend closeby.

Doxy had her first litter at Kennel MerryMac and in her first litter, she has CAC-winners and Champion progeny.


See Doxy's second litter here...